In this issue
Newsletter
Like us and follow us on Facebook
This web site is maintained by the Madison, Wisconsin chapter of the American Society of Heating, Refrigerating, and Air-Conditioning Engineers, Inc. (ASHRAE). It does not present official positions of the Society nor reflect Society policy. ASHRAE chapters may not act for the Society and the information presented here has not had Society review. To learn more about ASHRAE activities on an international level, contact the ASHRAE home page at http://www.ashrae.org.
Comments? Contact the Webmaster
©2019, ASHRAE Chapter 095
Madison, Wisconsin Chapter
President's Message
Happy May! There is lots of exciting stuff going on in ASHRAE and in Madison. The big development is the updating to Wisconsin codes and the switch to ASHRAE 90.1-2013. It gives us all an excuse to dive back in and use work hours to read up on ASHRAE Codes. I know you all typically read them at home and now you will get paid to do it! I know ASHRAE has some update materials and there are some local resources as well, so reach out with questions.
I know there were some difficulties at the last minute for the chapter meeting, but I appreciate those that were still able to attend. Additionally thanks to Cameron Klein and Joe Wenn for filling in and presenting on Towers and Water Treatment. Believe it or not, these guys were able to be ready with 1 days' notice, and they still did an amazing job.
Additionally, thanks to those that attended the ASHRAE Webcast. The presenters did a great job and provided a lot of great information. Thanks to Francisco Sayu for putting this together. If you were not able to watch it live, keep in mind that you can always go back and watch it on the ASHRAE Website.
Submissions are in for CTTC awards. Thanks to Fred Betz and Kwongyee Yeong for submitting projects. I know we do a lot of amazing work in Madison and everyone should keep tabs on interesting projects they are working on.
Upcoming activities:
Be sure to attend the next ASHRAE meeting as we have a Distinguished Lecturer (DL) presenting
The Golf Outing will be held on June 11th, so start looking for your foursome.
We are always looking for more volunteer to keep ASHRAE going. If you would like to volunteer for a chair or committee position, please let myself or any of the BOG members know. If you are looking to take it up a notch we are looking for nominees at the regional level as well.
Greg Froehle
Madison ASHRAE Chapter President 2017-2018
[email protected]
Back to top
---
Meeting Announcement
May 15th, 2018

TUESDAY
5:00 PM - 8:00 PM
Hawthorn Inn and Suites Suites
5421 Caddis Bend
Fitchburg, WI 53711
Hawthorn Inn and Suites
Beam Me Up Scotty!
$20.00 Member of Madison ASHRAE
$30.00 Guest (non Madison ASHRAE member)
$ 0.00 Only if you have already paid for the Cafeteria Plan
$ 0.00 Currently Enrolled Full-Time Students Only
-----------------------------------------------------------
REGISTRATION CLOSES AT NOON ON FRIDAY, May 11th! Please sign up at your earliest convenience, it helps with dinner planning.
Help keep meeting costs down! If you sign up, ATTEND or email [email protected] with your cancellation prior to April 6th.
------------------------------------------------------------
Technical Session - 5:00 pm - Transformers: Turning Existing Buildings "Green"
Dinner - 6:00 pm
Pizza Buffet!!
Deluxe raw vegetable tray, tossed salad or Caesar salad and Rainbow Rotini Pasta Salad. Garlic knots.
Coffee and hot teas.

Main Presentation - 7:00 pm - BEAM ME UP SCOTTIE!
Technical Session Highlights:
Hank Jackson will cover Transformers: Turning Existing Buildings "Green".
We hear lots about "green buildings" and "sustainable design" for new construction, but what about existing buildings? This presentation will cover an overview of operations and maintenance (O&M) techniques for transforming older, existing buildings into greener, more sustainable facilities. Participants will learn how landscaping practices, water usage, waste disposal, indoor environmental control, and energy efficiency influence the sustainability of buildings. A discussion of guidelines and certification programs will be included, along with ideas for implementing low cost "green" O&M practices. Owners and operators of existing buildings who want to add "sustainable" to their property description will want to attend this workshop.
Main Presentation Highlights:
Hank Jackson will present BEAM ME UP, SCOTTIE! - a discussion of Transport Energy for Motors, Fans and Pumps.
Significant power and energy is expended transporting water and air through buildings and process systems. Hank will discuss how to evaluate motor loads due to pumps and fans, how to determine motor energy usage, and how variable speed drives function and how they can be applied to save energy. Through sample application problems, the attendees will be asked to evaluate the potential for energy savings using variable speed drives, low-slip drive belts and pulleys, and through proper motor sizing.
Presenter: Hank Jackson, P.E., Owner, ETech Solutions
ASHRAE Distinguished Lecturer
Hank Jackson, owner and principal of ETech Solutions, has provided technical training and consulting services in the energy efficiency marketplace since 1979. He holds a Bachelor of Aerospace Engineering (1974) and a Master of Science in Aerospace Engineering (1978), both from the Georgia Institute of Technology, Atlanta, Georgia. Originally registered in Georgia, Mr. Jackson currently practices in North Carolina.
Mr. Jackson served as director of the Georgia Industrial Energy Extension Service program at the Georgia Institute of Technology prior to entering a private consulting practice. During a five year hiatus from consulting (1999 – 2005), he was department chair of Mechanical Engineering Technology at Asheville-Buncombe Technical Community College in Asheville, North Carolina.
Mr. Jackson specializes in energy management consulting and custom design of energy efficient mechanical systems for commercial, institutional, and industrial buildings. He has provided training for numerous public electric and natural gas utilities, including Georgia Power, Midwest Gas, Pacific Gas and Electric, Southern California Edison, and Niagara Mohawk Power. He has also traveled abroad to Jamaica and Central America to conduct energy audits and to provide technical training, including a lecture series in Spanish.
Mr. Jackson has been a member of ASHRAE since 1983. He co-authored "Infiltration heat gains through cold storage room doorways," 1989 with W.A. Hendrix and D.R. Henderson, ASHRAE Transactions 95(2).
Back to top
---
Society Conference-Meeting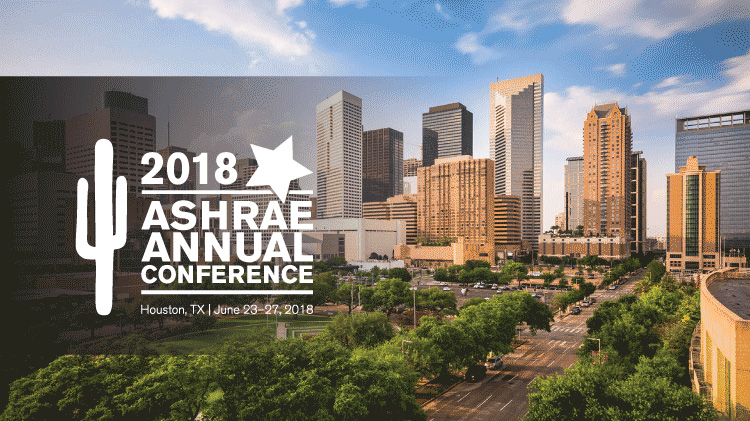 2018 ASHRAE Annual Conference
Houston, TX | June 23–27, 2018
The 2018 ASHRAE Annual Conference will be held in Houston, June 23–27, 2018. The Technical Program along with Committee meetings, Registration, Bookstore, and Speakers Lounge will be held at the Hilton Americas hotel and the George R. Brown Convention Center.
Welcome Letter from Steve Redding.
Conference Tracks include:
HVAC&R Systems and Equipment
Fundamentals and Applications
District Energy and Cogeneration Plants
HVAC & Resiliency: Safeguarding our World
Residential – Modern Building in Hot and Humid Climates
Professional Skills
Research Summit
HVAC&R Control Freaks
HVAC&R Analytics
Program Book
See you in Houston!
Back to top
---
Past President
How Bill Dries found ASHRAE
I grew up in Milwaukee My education after high school started with two years at the UW Extension in downtown Milwaukee. Two more years at UW Madison resulted in a BS in Mechanical engineering. The next 21 months were served in the US Army as a draftee. My next location was UW Madison for a MS degree received in June 1956.
Back in Milwaukee I found work in a HVAC consulting firm Lofte and Frederickson.
The owners and employees (total of 8) were active in the ASHRAE chapter. I went to the ASHRAE meetings and joined in June 1958. The networking was excellent, and I met a lot of fellow engineers, contractors and salesmen. I also found the ASHRAE Handbook (a single volume at the time) and magazine very useful.
In January 1959 I moved to Madison and Aug 1962 received a PhD in Metallurgy.
During this time, I worked as a part time salesman selling to HVAC contractors,
and industrial firms. I also did HVAC design consulting via Dries Associates, Inc.
In September 1962 I went to work at UW Extension as an instructor and short course planner.
The Madison ASHRAE chapter started in 1962 and I became a member and served as president in 1966. Again, the contacts and resources helped my career. The monthly meetings and social outings help to meet other HVAC experts.
At the UW computers were starting to be used in research and teaching. Faculty and students were learning how to program computers. I learned a language called FORTRAN to use to write programs. By 1966 I had learned enough to write a program to calculate heat gain and loss for buildings. I used the program in my consulting work and it was accepted by the State. In March 1966 ASHRAE journal the program was described and included the computer language and sample results. The title: Heat Gain and Loss Calculations by Computer. The calculations were based on the ASHRAE method in the Handbook. The heat gain was calculated for each hour 8:00 am to 5:00pm. The time of the peak heat gain was calculated for each room and whole building.
I owe my HVAC career to ASHRAE and its' resources and members.
Bill Dries
Chapter President 1966-67
Back to top
---
Golf Outing
The 53rd Madison ASHRAE Golf Outing is scheduled for June again this year. Plan for more information in the next newsletter. It will be held at the Stoughton Country Club on Monday June 11, 2018. It will have a shotgun start! Golf carts and lunch will be provided for all players. A buffet style dinner will follow with multiple selections to choose from.
Hole sponsorships will be available as well as beverage sponsors. Sponsors will be recognized at the banquet. Also, donations for door prizes are welcome and appreciated. Revenue from this day of golf and camaraderie will be donated to the Education/Scholarship and RP Funds. We look forward to you joining us this year.
Tentative Schedule:
Registration 10:00-10:45 AM
Shot Gun Tee Time 11:00 AM
19TH Hole 4:00 PM
Dinner 5:30 PM
Back to top
---
Membership
The Madison Chapter of ASHRAE has remains consistent. We finished the year at 266 members. We enourage your to invite your associates and peers to join ASHRAE to share in their professional experience, skills and talents. The programs continue to be valuable for the time involved. There are many benefits to being a member of ASHRAE. Take a look at this JOIN ASHRAE link to find out more about the reason's to be part of the almost 57,000 world wide members.
Please welcome our new member this month: Robert Messenger & Kwongyee Yeong
Members, check your BIO's and keep them up to date with your current address, phone, e-mail, employer or experiences. Your e-mail address with society, is what the Chapter uses contact you, so changes assure you are remain in contact. Update Your BIO HERE.
Area Assigned Members
266
Mar
2017-18
YTD

Current Membership (May)
268
New Members
3
24
New Students
2
11
Cancellations
3
26
Student Cancellations
2
8
Grade Advancement
0
0
Affiliate Transfer
0
5
Life Member Transfer
0
2

Contact the Madison Chapter Membership Chair, [email protected] if you have questions or comments about ASHRAE Membership.
Back to top
---
Meeting Schedule
Monday
Topic
Presenter
Theme
Technical Session
Sep 11th
Controls in the Developing HVAC Industry


Eric Carlson
Ron Bristol


DDC Analytics
Oct 9th
Vortex Optics World Headquarters
Matt Heil
Student Night
none
Nov 13th
VFDs, Harmonics, Grounding Rings
Ken Wegrzyn
Membership Promotion
Overspeeding Direct Drive Fans
Dec 11th
Commissioning for Industrial Refrigeration Systems: Welcome to the Wild West
Dan Dettmers
Research Promotion
Social
Jan 8th 2018
Airflow Management for Laboratory Facilities
Kishor Khankari (DL)
Distinguished Lecturer
Application of Computational Fluid Dynamics for Built Environment
Feb 12th
Ethics
Nicole Schrier
CTTC
none
Mar 12th
Dehumidification
Tom Peterson
Student Activities
Psychrometrics
Apr 9th
New Approaches to Slash Commercial & Healthcare Building Energy Use and Improve IEQ
Gordon Sharp (DL)
Membership Promotion
Holistic Overview of Technologies and Strategies to Achieve Deep Energy Reductions in Laboratories & Vivariums
May 15th

(Tuesday)

Transport Energy: Motors, Fans, and Pumps
Hank Jackson (DL)
Distinguished Lecturer

Transformers: Turning Existing Buildings Green

Jun 11th
Golf Outing 53rd Annual
n/a
Back to top
---
Society News Releases
Recent News Releases from ASHRAE:
Back to top
---
Advocacy
New Wisconsin Commercial Code
Effective May 1, 2018

Are You Prepared?
The Department of Safety & Professional Services (DSPS) – Division of Industry Services recently updated the status of the Wisconsin Commercial Building Code by adopting the 2015 International Suite of Codes with Wisconsin amendments as contained SPS Chapters 361-366. The code package has been adopted and is awaiting implementation. The effective date for the updated rules is May 1, 2018. Commercial building plans submitted on or after May 1st will need to comply with the updated rules.
Auer Steel will be hosting three informational sessions on the updated Commercial Building Code, focusing on the International Energy Conservation Code (IECC), the International Mechanical Code (IMC) as well as the International Fuel Gas Code (IFGC). These sessions will give you a general understanding of the major changes and what you will need to do to be code compliant. You will also have the opportunity to ask Randy Dahmen, PE. of the WI Department of Safety & Professional Services questions on applications to the code.
Location:
May 24- MADISON
Radisson Hotel Madison
517 Grand Canyon Drive, Madison
Schedule:
Registration: 7:00AM – 8:00AM
Information Session: 8:00AM – 12:30PM
Lunch and Tradeshow: 12:30PM – 3:30PM
Tradeshow:
Make plans to stay for lunch and visit with the many vendors who supply product or services to the commercial industry.
• AO Smith Commercial Water Heaters
• Auer Steel Engineering Services
• Carrier (Milwaukee Only) & Bryant Rooftop Units
• Carrier (Milwaukee)/Bryant (Neenah) VRF Product
• Focus On Energy Commercial Rewards
• Honeywell Controls
• Hydronic Equipment
• MicroMetl Economizers
• RenewAire
• Reznor
• and more…
REGISTER TO WIN
When you stop by our participating vendors, be sure to enter any drawings they may have.
GRAND PRIZE
Enter to win the grand prize drawing of 4 tickets to the Preseason Packer's Shrine game (date TBD). One grand prize awarded at EACH of the locations.
Meet the Trainer
RANDY DAHMEN, PE
Commercial Building Inspector,
Code Consultant & Plan Reviewer for the WI Dept. of Safety & Professional Services
Randall R. Dahmen, PE, is an advanced engineering consultant in the Division of Industry Services (formally the Division of Safety and Buildings) of the Wisconsin Department of Safety and Professional Services. A Wisconsin registered professional engineer as well as licensed commercial building and UDC HVAC inspector, Dahmen has been employed by the Division since 1995. Prior to that he was a private sector project engineer involved in the design, fabrication, testing, field installation, and troubleshooting of various types of HVAC equipment. Dahmen was a finalist for the U.S. Department of Energy's Jeffrey Johnson Award for his energy conservation efforts.
Back to top
---
Website / Newsletter
We have adopted the world of social media in the Madison Chapter and have created a Facebook page as well as a Twitter account. Kathleen Baker helped the Website and Newsletter Editor to create and develop our presence. We encourage you to "like" us and follow us. Our communications will be industry based as well as event communications. To the encouragement of our Society, will share and re-tweet their communications. Take note of some of the other region activities for ideas or possibly visiting one of their chapters.
Let us know if you have comments or questions. Please feel free to share our content with other peer organizations or their events with ours.
Facebook.com/ASHRAEmadison @ashrae_madison
Happy Cyber Space!
Back to top
---